75th Anniversary Celebration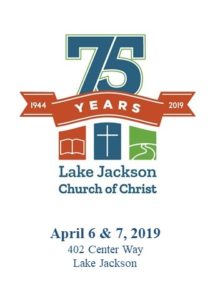 Be our guest for the 75th Anniversary Celebration
Guest speakers:

Chris Benjamin, Royce Money, and Hoss Ridgeway.
Saturday, April 6th 5:00 pm – 8:00 pm
Stories, Songs & Fellowship
Sunday, April 7th 9:00 am – 1:30 pm
9:00 am — Welcome Reception
10:30 am — Worship Service
11:30 am — Catered Luncheon Provided
RSVP:

To better prepare for meals, please RSVP by calling the church office at 979-297-2494 by March 28th.
Out of Town Guests:

We have reserved a block of rooms at the Courtyard by Marriott, 159 State Hwy 288, Lake Jackson, 979-297-7300. When you call tell them you are here for the Lake Jackson Church of Christ Anniversary Celebration.