Quick Links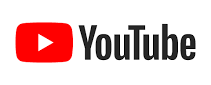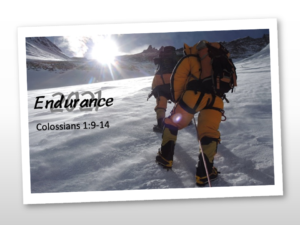 2021 THEME
The theme chosen for 2021 is Endurance. According to Dictionary.com "Endurance" is defined as, "the ability or strength to continue or last, especially despite fatigue, stress, or other adverse conditions; stamina:" After 2020, we have been tested and many of us are feeling tired, stressed, worn out, and fed-up. As we run the race of life, we understand all we can do to endure what life may throw at us is by building on what knowledge and experience we already have. The more knowledge and experience we have the easier it is for us to endure the challenges we face. This year will be a year of training to face unexpected hardships, of rest to be ready and energized to face the unknown, of support as we encourage and assist those around us to keep on keeping on despite challenges they may be dealing with, and for the wisdom to reach out for help so no one is left behind. If you are reading this, we ask you to join us in prayer for the students as they prepare to face what is ahead of them and that they face it inviting God to be by their side through it all.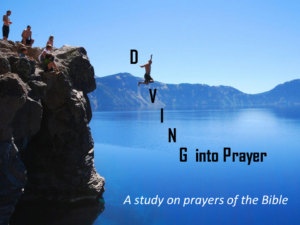 Diving Into Prayer
Meets on Sunday mornings @ 9:30 am in the Youth Room.
What or who do you pray for? Do you spend time asking God, thanking Him, or just generally spend time talking to Him? In this series we are looking at various prayers voiced from a number of people throughout the Bible, looking at what their situation was and the reason for their prayer. The purpose of this series is to build on how we pray and our knowledge of how to better communicate with God, our Father.

The Youth LIFEGroup will meet at the Hunts' house Sunday evenings at 6 pm. Each student will have 2 opportunities to co-lead the LIFEGroup lessson including song planning, finding scriptures, and leading the discussion of the lesson.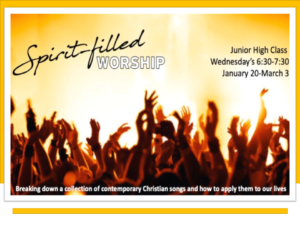 Spirit Filled Worship – Junior High Class
Meets Wednesday nights at 6:30 pm in the Junior High Room.
This short series leading up to Spring Break is for the Junior High students. We'll be looking at, listening to, and breaking down some popular contemporary Christian songs that might be found on some of the Christian radio stations. The purpose is to look at how we can praise, acknowledge, and cry out to God in our hearts, minds, and ultimately our spirit.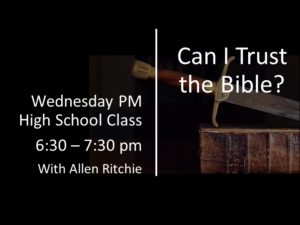 Can I Trust the Bible? – High School Class
Meets on Wednesday nights @ 6:30 pm in the Youth Room.
This series is for the High School students prepared and taught by Allen Ritchie. There is a common assumption that the Bible is "full" of errors and contradictions. These ideas are fueled by the teachings of people who seem to delight in raising questions about the Bible's truthfulness and integrity.
But the critics of the Bible are wrong, in fact, this series confirms there are many solid reasons to trust the Bible. Allen will affirm a high view of Scripture that it is inspired of God and therefore, inerrant and infallible.
Overseeing the growth and preparation of students to become mature, strong, and committed followers of Christ both now and as they move into adulthood. Teaching and implementing disciple-making activities for living out scripture daily.
Peter Hunt – Youth Minister
Randy Moore – Elder
Jerry Miller – Elder
Terry German – Lead Contact Deacon
Manuel Chacon – Deacon