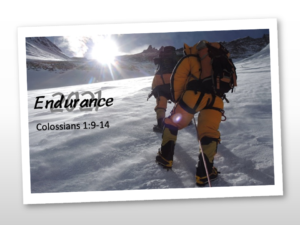 2021 THEME
The theme chosen for 2021 is Endurance. According to Dictionary.com "Endurance" is defined as, "the ability or strength to continue or last, especially despite fatigue, stress, or other adverse conditions; stamina:" After 2020, we have been tested and many of us are feeling tired, stressed, worn out, and fed-up. As we run the race of life, we understand all we can do to endure what life may throw at us is by building on what knowledge and experience we already have. The more knowledge and experience we have the easier it is for us to endure the challenges we face. This year will be a year of training to face unexpected hardships, of rest to be ready and energized to face the unknown, of support as we encourage and assist those around us to keep on keeping on despite challenges they may be dealing with, and for the wisdom to reach out for help so no one is left behind. If you are reading this, we ask you to join us in prayer for the students as they prepare to face what is ahead of them and that they face it inviting God to be by their side through it all.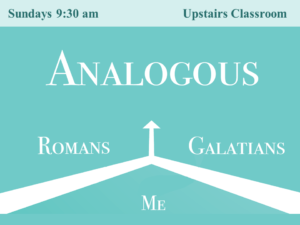 Analogous
Meets on Sunday mornings @ 9:30 am in the Upstairs Classroom
Have you ever sat and thought to yourself, I am the only one that is going through this? You are not alone. Every situation is unique, yes. Yet there are so many things that are similar and have the same answer. Join us every Sunday morning at 9:30 as we look at two different writings from Paul, Galatians and Romans. There are many things that we can compare in Galatians and Romans. Not only can we compare them with each other but we can compare them with ourselves too!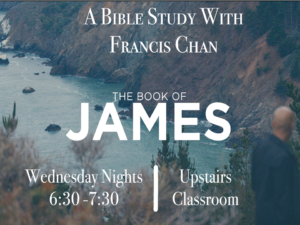 The Book of James: Study with Francis Chan
Meets on Wednesday nights @ 6:30 pm in the Upstairs Classroom
We will dive into the book of James with a video series by Francis Chan and have an in depth discussion, so that we can strengthen one another and grow closer with the Lord, together.

The Youth LIFEGroup starts September 19 and we are excited for it! We will meet as a youth group but we will be visiting other LIFEGroups to allow for greater fellowship! Please visit the Youth Group Calendar to see when we are meeting and where we are meeting.
Overseeing the growth and preparation of students to become mature, strong, and committed followers of Christ both now and as they move into adulthood. Teaching and implementing disciple-making activities for living out scripture daily.
Terry German – Ministry Leader