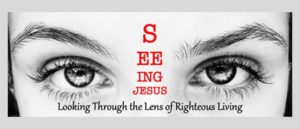 2020 THEME: Seeing Jesus
Looking through the lens of Righteous Living
Our theme for 2020 is Seeing Jesus. The focus is to see Jesus in every aspect of our lives. In our classes and in our times together, we want to let people see Jesus in us, but we want to see Him in others too. Seeing Jesus shows He lives with us, He is present, He is active. There may be some dark times in our lives, but when we see Jesus, we know we're not facing these hardships alone. We learn by reading and doing, but we also learn by seeing the example of the people around us, we invite Jesus to be present to show us His way.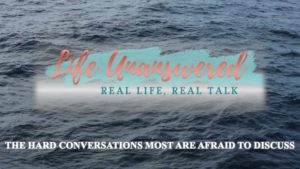 This semester's class will be divided up in to two parts. The first part, "Life Unanswered" will be talking about difficult and perhaps lesser discussed topics within the church. These topics will be relevant to their individual life and to the lives of some of their friends. This part will conclude just after Spring Break allowing a lighter, less intense study to conclude the semester.
The second part of the semester we will study "Humor Me" as we will look at some stories from scripture that make us laugh, wonder, and see God do only what He can do.

The Youth LIFEGroup will meet at the Hunts' house Sunday evenings at 6 pm. Each student will have 2 opportunities to co-lead the LIFEGroup lessson including song planning, finding scriptures, and leading the discussion of the lesson.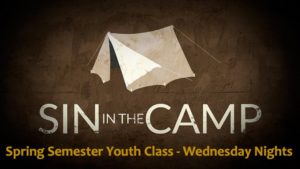 During Wednesday Night class, we will be studying a series titled, "Sin in the Camp". We will be looking at what sin is and why these things are considered sin. Focusing our lessons from 1 Cor. 6 9-11 and Gal 5:19-21, we will cover what is known to be "The Seven Deadly Sins" and the Unforgivable Sin.
Overseeing the growth and preparation of students to become mature, strong, and committed followers of Christ both now and as they move into adulthood. Teaching and implementing disciple-making activities for living out scripture daily.
Peter Hunt – Youth Minister
Randy Moore – Elder
Jerry Miller – Elder
Terry German – Lead Contact Deacon
Manuel Chacon – Deacon